Register for the Pink Ticket Party Now!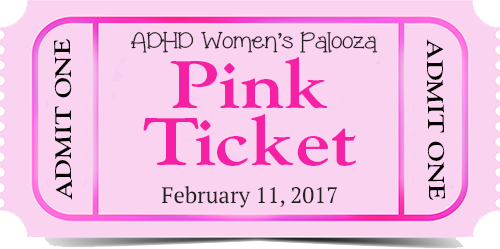 You can connect on your computer or laptop or phone. We'd love for you to upload a photo of yourself (you can use your Facebook or Twitter image when you log in to the Pink Ticket Party).
Ask the tough questions! Linda and Terry a will field them all. The talk to other women by phone in our exclusive break-out sessions. Women from all over the world will join us!
Pink Ticket holders will receive special gifts during Palooza Week. And the afterglow continues with 36 days of daily inspirations from your favorite ADHD experts.
Pink Ticket Goodies

$147

Live access to Pink Ticket event on Sat., Feb. 11, 1:00 pm - 3:00 pm 2017
Connection with other ADHD women via webcam, phone or chat
Breakout rooms to meet ADHD women from around the world
Special gifts during Palooza Week
36 days of inbox inspiration from our ADHD Legends
Live access to all 36 Palooza sessions
Replays of all 36 sessions, audio AND video options
Bonus gifts from the ADHD Women's Palooza experts
Space is limited by our webinar provider.
* There are no refunds after the ADHD Palooza starts, February 6, 2017, 9 am EST.