The Empath Connection in Women with ADHD
Presentation Date:  Tuesday, February 6th    |     Presentation Time: 4:00 pm EST
Women with ADHD can often be highly intuitive and be Empaths. In this session we will look at the connection between being and woman with ADHD and being an Empath. We will also discuss tips and strategies of how survive and even to thrive while being an ADHD Empath.
TARA'S BONUS GIFT FOR ALL Encore & Pink Ticket HOLDERS
__________
Clearing ADHD Energetic Blocks for Success Webinar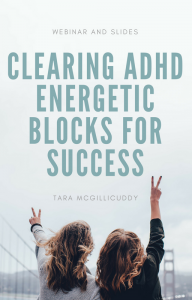 If you have tried all the ADHD related tips and strategies from leading experts and you are still struggling, you may have energetic blocks that are getting in the way of your success. During this powerful one of a kind Webinar Tara McGillicuddy will discuss the most common energetic blocks that hinder success for adults with ADD /ADHD. Tara will also conduct an energetic group clearing session to help you remove these blocks. Tara will also teach you ways to clear your own energy.
Haven't signed up for the Pink Ticket or Encore Package yet? Remedy that now…
About Tara McGillicuddy, SCAC
Tara McGillicuddy, SCAC is an internationally recognized Adult ADD/ADHD Expert. Since 1997, Tara has been providing virtual support and education to people affected by ADD/ADHD. She has a passion for helping people affected by ADD/ ADHD lead happy and productive lives.
Through the use of online technology, Tara has spent the last 2 decades connecting people affected by ADD /ADHD with Education and Support resources. Tara is the founder and director of ADDClasses.com, the leading resource for virtual ADD / ADHD Support and Education. She is also the host of ADHD Support Talk Radio, a top ADHD podcast on iTunes and top Self-help show on Blog Talk Radio. In addition to her online ADD/ADHD resources, Tara also provides ADHD Coaching to Adults with ADD/ADHD.