Description
Sometimes we feel as though roadblocks are put in front of us due to our ADHD characteristics or how we are judged by others. But sometimes we have a hand in putting those hurdles in our way and we may even judge ourselves. In this session Julie and Linda explore how to identify strengths, strengthen self confidence, and find gratitude for yourself.
About Julie Skolnick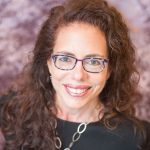 Julie Skolnick, M.A., J.D., Founder of With Understanding Comes Calm, LLC, passionately guides parents of gifted and distractible children, mentors 2e adults, trains educators and advises professionals on how to bring out the best, and raise self-confidence in their 2e students and clients. Julie produces Let's Talk 2e! virtual conferences, hosts the Let's Talk 2e! Membership Community maintains 2eResources.com, and publishes the "Gifted & Distractible" newsletter. A frequent speaker and prolific writer, Julie is also the mother of three twice-exceptional children who keep her on her toes and uproariously laughing.