Description
If you google "women and 2e" all of the results are for extra wide sneakers! This sums it up – being a woman and 2e is just not an easy fit in this world. Women identified with ADHD and diagnosed gifted, experience strengths and struggles personally and professionally. What is your job satisfaction? What is your relationship satisfaction? How do you feed your soul? These questions are all interrelated. In this session, Julie Skolnick, M.A., J.D. will help you understand what it means to be 2e (twice exceptional), how that affects your satisfaction in the world, and what to do about it.
About Julie Skolnick, M.A., J.D.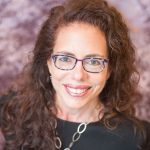 Julie Skolnick, M.A., J.D., is the founder of With Understanding Comes Calm, providing compassionate guidance and strategies for parents and educators of 2e children. Julie produces the global virtual conference, "2 Days of 2e." She serves as Secretary to the Maryland Superintendent's Gifted and Talented Advisory Council, is the SENG Maryland liaison, an SMPG facilitator and publishes the monthly on-line Newsletter, "Gifted & Distractible." Most importantly, Julie is the mother of three twice exceptional children who keep her on her toes and uproariously laughing.